DICO is pleased to announce that we worked on the Japanese release of "Legends of Ethernal," which is now on sale through NA PUBLISHING Inc. We were responsible for producing not only the localization of the game for all platforms—PlayStation 4, Nintendo Switch, Steam (PC)—but also for conducting the TCR check, LQA, and FQA for the former.
By assigning one project leader to oversee the entire process—language localization, TCR check, LQA and FQA—we were able to ensure high quality and consistency across all versions of the game.
 In short, "Legends of Ethernal" demonstrates the quality and reliability of our one-stop solution for localization.
"Legends of Ethernal" is currently available through all the outlets named above. Take a step into a world filled with beautiful art and join us in exploring this action-adventure game packed with mysteries to solve!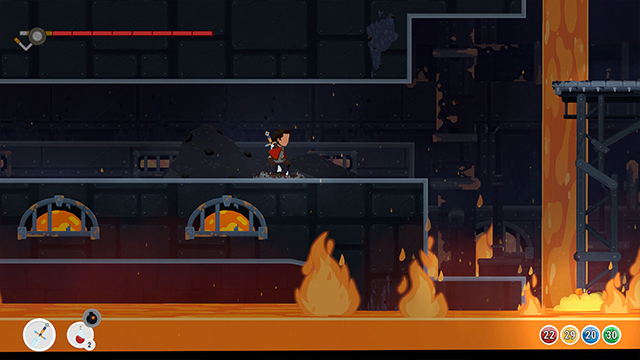 ■Legends of Ethernal: Game Description
"Legends of Ethernal" is a side-scrolling action-adventure game developed by Canada's Lucid Dreams Studio, a studio founded in 2018 by veterans of wide-ranging AAA titles. Explore a world crafted in painstaking detail, solving ingenious puzzles and battling powerful creatures as you seek to uncover the truth behind your parents' disappearance.
Wilfred returns home one day to find his house in ruins, and his parents nowhere to be found... 
■Key Features
- Progressive Gameplay
Enjoy mechanics that are unlocked with the weapons and items you find.
- Formidable Dungeons
Venture into numerous dungeons, solving puzzles on your path to challenging boss battles.
- Crafting System
Gather ethers and craft materials to create items that will help you on your journey.
- Unique and Gorgeous Art
Feast your eyes on a world depicted in beautiful 2D hand-drawn art, designed to make the most of 4K resolution on supported platforms.
- Enigmatic Events
Experience an intricate, linear storyline with compelling characters.
- Wonderful Music
Immerse yourself in a fantastic score recorded and produced by veteran musician William Gough.
- Multiple Difficulty Levels
Challenge yourself with Hardcore Mode, or focus on experiencing the story in Relaxed Mode—there's something for everyone to enjoy!
■Game Information
Title: Legends of Ethernal
Platforms: PlayStation 4 / Nintendo Switch / Steam
Genres: Action / Adventure
Players: 1
Release Date: September 24, 2020 (PS4/Switch)
Price: 4,180 yen plus tax
Rating: CERO B
■Available from:
PlayStation Store:
https://store.playstation.com/ja-jp/product/JP5679-CUSA19630_00-NAPLEGENDJP00001
Nintendo eShop:
https://store-jp.nintendo.com/list/software/70010000034064.html
Official Page:
https://na-pub.com/products/legends-of-ethernal/

©2017-2020 Lucid Dreams Studio. All Rights Reserved.
Licensed to and published by NA PUBLISHING Inc.