Global video game publisher DICO has announced the 2D action shoot 'em up Missile Dancer will be released on Thursday 21st of January 2021 in America, Europe, the United Kingdom, and other supported western territories of Nintendo Switch. Releasing digitally priced at $9,99 (USD).
This game continues the collaboration with the Japanese publisher Regista. New games are arriving to the Western territories from Japan, right onto your Nintendo Switch!
Created by TERARINGAMES, the Japanese developer behind the sci-fi action game Gemini Arms, Missile Dancer features frenetic 2D action where players pilot fighter jets to infiltrate the enemy base and stop them before the end.
On a different take on the shmup genre, the bullets of your fighter jet won't damage the enemy. Instead, they're your best option against the incoming attacks! To destroy your enemies, you will need to expand your radar and lock on them to shoot them down with a mighty missile strike!
You can increase the range of your lock-on radar and the number of missiles with bonus items after defeating enemies. Don't be hit!
Missile Dancer features two game modes: Arcade and Against the clock and co-op play to play with a friend offline.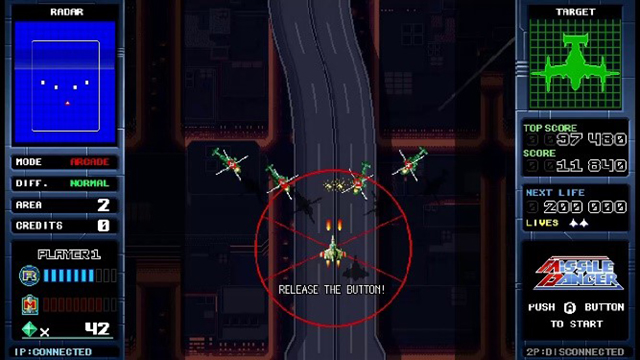 ■Features
・The most straightforward design for the frenetic action. The same button is used to shoot bullets, expand your radar and, upon release, launch your attack.
・Play solo or with a friend in cooperative mode.
・Three difficulty levels to test your skills through the game stages.
・Two game modes: Arcade and Against the clock. Complete the story like in the old-time arcade machines or try your best score in 3-minute score attack.
・Leaderboards to record and brag your best scores.
・Choose your way. Horizontal or vertical play on your Nintendo Switch.
・You can add scanning lines to your gameplay for that old style arcade CRT screens have.
・Localized to your language: English, French, German, Italian, Spanish, Portuguese, and Japanese.
■About DICO
DICO Co., Ltd. is global video game publisher and developer including games and interactive entertainment, animation.
Based on DICO's experiences of successfully releasing multiple games and contents, DICO will continue to provide entertainment in various forms to the world including Japan.
Please visit https://www.dico4u.com/en/ for more details.
PR CONTACT: This email address is being protected from spambots. You need JavaScript enabled to view it.
■Game Information
Game title: Missile Dancer
Release date: 21st of January 2021
Platform: Nintendo Switch
Size: 54MB (approx.)
3 play modes: TV mode, Tabletop mode and Handheld mode!
Players: 1 player
Supports Nintendo Switch Pro Controller
Genre: Arcade, Shooter, Action
Supported Languages: English, French, Italian, German, Spanish, Latin American Spanish, Japanese
Rating: ESRB Teen, PEGI 7, USK 12
■LINKS
Nintendo eShop: https://www.dico4players.com/r/?s=missiledancer&l=eshop
Official Website: https://www.dico4players.com/missiledancer/
©2020 TERARINGAMES/Regista. Licensed to and published by DICO Co., Ltd.